Welcome, fellow globetrotter! If you're reading this, chances are you're a digital nomad or aspire to become one. Have you considered Puerto Vallarta as your next destination? Allow me to explain why it might just be the perfect city for you!
Introduction to Puerto Vallarta for digital nomads
Nestled between the mountains and the Pacific Ocean, Puerto Vallarta is a paradise located on Mexico's golden coast. It's a place where traditional culture coexists with modern amenities – a balance that makes it a hotspot for digital nomads from across the globe. But what exactly makes it so appealing?
5 Reasons For Digital Nomads To Choose Puerto Vallarta:
Affordable Cost of Living: Compared to many North American and European cities, Puerto Vallarta has a lower cost of living. This affordability extends to housing, food, and even healthcare, making it economically attractive for digital nomads.
Reliable Internet and Workspaces: With high-speed internet readily available and a host of co-working spaces and Wi-Fi-enabled cafes, Puerto Vallarta offers the infrastructure necessary for remote work.
Thriving Expat Community: The city boasts a thriving expat and digital nomad community. This can provide a strong social network and offer support to those living away from their home countries.
Health and Wellness Opportunities: The availability of outdoor activities like surfing, hiking, and yoga, as well as an emphasis on fresh, local cuisine, helps digital nomads maintain a balanced, healthy lifestyle.
Natural Beauty and Climate: With its stunning beaches, beautiful sunsets, and a year-round tropical climate, Puerto Vallarta offers an appealing lifestyle and environment that's hard to resist.
5 Reasons For Digital Nomads Not To Choose Puerto Vallarta:
Language Barrier: While English is commonly spoken in tourist areas, Spanish is the official language of Mexico. This could pose a challenge for those not proficient in the language.
Safety Concerns: While Puerto Vallarta is generally safe, like any city, it has areas of higher crime. It's important to research and take necessary precautions.
Travel Accessibility: While Puerto Vallarta is well-connected by air, its distance from certain parts of the world might make visits home or travel to other countries time-consuming and expensive.
Hot and Humid Weather: The tropical climate, while appealing to some, may not be comfortable for everyone. The city can get hot and humid, particularly during the summer months.
Potential for Cultural Isolation: While Puerto Vallarta has a thriving expat community, it can still feel isolating for some. Differences in culture, customs, and holidays from one's home country might lead to feelings of homesickness or disconnection.
The Appeal of Tropical Locations
Tropical locations worldwide, such as Bali, Koh Samui, and of course, Puerto Vallarta, have become hotbeds for the digital nomad community. The question is, why are these balmy paradises so popular amongst laptop-toting globetrotters?
Primarily, it's the enticing combination of sun-drenched landscapes, warm temperatures, and the siren call of crystalline waters that make these locations prime choices for digital nomads. There's an undeniable appeal in replacing the grey, urban cityscape with a daily panorama of palm trees and ocean waves.
From personal experience, I recall one winter when I was working in the cold, bustling city of New York. Amidst snow storms and chilling winds, I found myself daydreaming of sandy beaches and sunny skies. It didn't take long before I switched the freezing city for the warm embrace of Puerto Vallarta. The change in environment positively influenced my work attitude, creativity, and overall well-being.
However, the appeal extends beyond mere aesthetics and climate. Many tropical locations offer a lower cost of living compared to cities in Europe or North America. Lower costs for housing, food, and general expenses allow digital nomads to maintain a comfortable lifestyle without breaking the bank.
Then, there's the chance to immerse oneself in a different culture and lifestyle. Exploring local cuisines, customs, and languages is an enriching experience, both personally and professionally. I've found that these experiences often provide a fresh perspective, which can enhance creative thinking and problem-solving skills – both vital for remote work.
Finally, the slow-paced, relaxed lifestyle commonly associated with tropical locations aligns perfectly with the flexibility of remote work. It's this synergy of work-life balance, amidst stunning natural beauty and warmth, that makes tropical locations irresistible to digital nomads.
The Lifestyle in Puerto Vallarta
Now that we've established what digital nomadism is and why tropical locales are so popular, let's dive into the specifics of life in Puerto Vallarta.
Cost of Living
When it comes to evaluating the ideal location for digital nomadism, the economic aspect is undeniably pivotal. So, let's delve into the financial realities of living in Puerto Vallarta.
According to Numbeo, a leading cost-of-living comparison tool, Puerto Vallarta offers a significantly lower cost of living than cities like New York, London, or Sydney. In fact, you can expect to spend about 60-70% less on general living expenses in Puerto Vallarta compared to these cities.
But what does this mean in practical terms? Let me share a personal anecdote. On a recent stay in Puerto Vallarta, I found that you could comfortably dine at local eateries, enjoying delicious and healthy meals for under $10. When it comes to accommodation, I was able to secure a modern, furnished one-bedroom apartment within walking distance to the beach for around $500 per month, sourced through trusted platforms like Airbnb or local real estate websites such as Vallarta Rentals.
Medical care, another significant factor to consider, is also notably affordable. On the unfortunate occasion of falling ill during my stay, a visit to a reputable clinic, San Javier Hospital, cost me substantially less than what I would have paid in the United States. I was thoroughly impressed with the quality of care and professionalism.
Of course, your cost of living will vary based on lifestyle choices and personal preferences. However, the affordability of Puerto Vallarta is a significant draw for digital nomads who want to make the most out of their location-independent lifestyle.
Nightlife Activities That Digital Nomads Love
Puerto Vallarta, known for its vibrant nightlife, has something for everyone. From relaxed beach bars to high-energy dance clubs, there is a multitude of options that cater to a variety of tastes and moods.
Begin your evening by watching the sunset at La Palapa, a beachfront restaurant located on Playa Los Muertos. They have a delightful cocktail menu, and the breathtaking views are the perfect backdrop for a relaxed start to your evening. I remember spending an evening here, sipping on their house-made Margarita while the sky exploded into hues of pink and orange. It was a moment of serenity that I cherish to this day.
Afterward, head over to the Malecón, a beachside promenade lined with statues, shops, and bars. You can take a leisurely stroll, enjoy lively street performances, and absorb the city's energy. On my visit, I particularly enjoyed watching the voladores de papantla, or 'flying men', a traditional Mexican ritual that was both thrilling and intriguing.
For those who enjoy live music, Incanto, located along the Cuale River, hosts nightly performances ranging from jazz to Latin music. It's an intimate space with a charming outdoor patio, perfect for enjoying the balmy Puerto Vallarta nights. The night I spent there, tapping my foot to the rhythm of a local mariachi band, was one of my most memorable experiences in the city.
The night is still young! Now, for the party-goers, Mandala is a must-visit. With its vibrant decor, pulsating music, and an endless stream of cocktails, this is where the city's energy peaks. I recall a night at Mandala, losing myself in the music and the crowd, feeling the city's heartbeat in the rhythm of the dance floor.
For a more laid-back vibe, Bar La Playa is a charming spot offering a wide selection of craft beers and artisanal tequila. My personal favorite? Sipping their house mezcal while engaging in conversation with fellow digital nomads – it was a beautiful blend of local flavors and global stories.
Remember, as lively as the nightlife in Puerto Vallarta is, it's important to respect the city and its residents by drinking responsibly and being mindful of noise levels late at night.
So there you have it – whether you're looking for music, cocktails, dancing, or just an evening by the beach, Puerto Vallarta's nightlife has something to offer you. The city sure knows how to party, and trust me, it's an experience you don't want to miss!
Outdoor Activities and Sports For Digital Nomads
As someone who's experienced the vibrant outdoor scene of Puerto Vallarta firsthand, I can confidently say that this tropical haven has a lot more to offer than just sunbathing on its stunning beaches. If you're someone who thrives in the great outdoors, you'll be spoiled for choice here.
Surfing and Watersports
The pristine blue waters of the Pacific are perfect for a variety of water sports. Surfing is particularly popular in the region, and Sayulita, a nearby village, is often hailed as the surfing capital of the Riviera Nayarit. As an amateur surfer myself, I remember the thrill of catching my first wave in Sayulita. It was a truly exhilarating experience! Apart from surfing, you can try your hand at paddleboarding, jet-skiing, or even scuba diving in Puerto Vallarta's clear waters.
Hiking and Nature Walks
Puerto Vallarta's lush jungles offer ample opportunities for hiking and nature walks. The Vallarta Botanical Gardens is a personal favorite of mine. Strolling through the stunning array of endemic and exotic plants, with the occasional sight of a colorful parrot flying overhead, is a memory I cherish. Additionally, the El Tuito trail offers a more challenging hike, but the sweeping views at the top make the effort absolutely worthwhile.
Adventure Sports
For the thrill-seekers among you, Puerto Vallarta won't disappoint. There are several ziplining tours that take you soaring over the treetops, offering a bird's eye view of the jungle below. Another adventurous activity I remember fondly was a 4×4 off-road tour, where we navigated through the rugged terrains of the Sierra Madre Mountains.
Yoga and Wellness
If you're more inclined towards calm and tranquility, Puerto Vallarta offers ample opportunities for yoga, meditation, and wellness retreats. The town is peppered with yoga studios and wellness centers that host regular classes and retreats. The beachside Xinalani Retreat offers a serene atmosphere, the perfect backdrop for a calming yoga session. My mornings there, welcoming the sunrise with a yoga class on the beach, were some of the most peaceful moments I've experienced.
So, whether you're an adrenaline junkie or a peace-seeking yogi, Puerto Vallarta's outdoor scene has something for everyone. Take my word for it – the experiences you'll have in the great outdoors here will form some of the most unforgettable parts of your digital nomad journey.
Activities For Families Are Endless
One of the best aspects of Puerto Vallarta is its wide range of family-friendly activities. This city isn't just a haven for digital nomads; it's a place where families can create unforgettable memories too.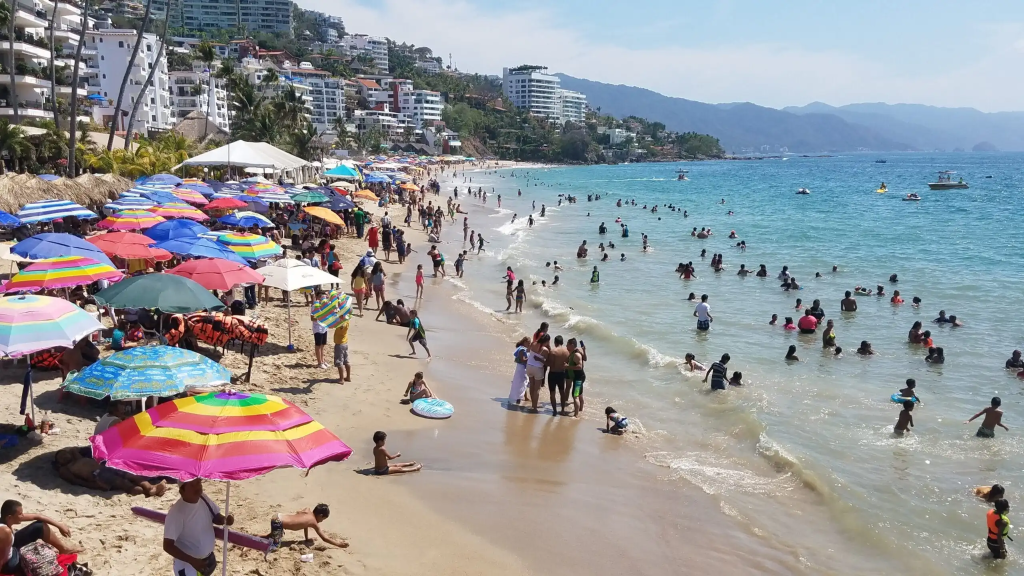 Visit the El Malecon Boardwalk
The first place to explore is the El Malecon Boardwalk. With its stunning ocean views, sculptures, and vibrant street performances, it's a feast for the senses. Don't forget to try some local ice cream while you're there; my kids couldn't get enough of the coconut flavor!
Explore the Vallarta Botanical Gardens
If your family loves nature, a trip to the Vallarta Botanical Gardens is a must. These gardens are home to a wide variety of plants, many of which are endemic to Mexico. There's even a vanilla plantation on-site. Remember to pack a picnic and enjoy lunch in their Hacienda de Oro Restaurant—I still cherish the memory of us dining amidst the lush greenery.
Sail to Las Caletas Beach
For beach lovers, a day trip to Las Caletas Beach is an unforgettable experience. This secluded beach is only accessible by boat, adding an element of adventure to your day out. The all-inclusive tours often include a fantastic variety of activities like snorkeling, paddleboarding, and even cooking classes.
Discover the Ocean at the Puerto Vallarta Sea Life Park
For a truly magical experience, visit the Puerto Vallarta Sea Life Park. This park offers the opportunity to swim with dolphins and sea lions. My family and I did this last summer, and the joy on my daughter's face as she interacted with these incredible creatures is a moment I'll treasure forever.
Join a Mexican Cooking Class
If your family enjoys culinary adventures, consider enrolling in a Mexican cooking class. It's a great way to bond as a family, and who knows, you might discover a hidden talent for Mexican cuisine. We attended a class during our last visit, and now, taco Tuesdays at our home have an authentic touch!
Puerto Vallarta's family activities extend far beyond these suggestions. The city's rich culture, beautiful surroundings, and variety of experiences make it an ideal location for families seeking a blend of adventure and relaxation. The memories you create here will surely last a lifetime.
Internet and Workspaces
Next on the list is a key necessity for digital work – reliable internet and comfortable workspaces.
Co-Working Spaces
Puerto Vallarta offers a thriving co-working scene that's hard to overlook. These spaces provide the perfect environment for digital nomads: high-speed internet, comfortable work stations, and the opportunity to network with like-minded individuals. Let's delve into a few notable options.
One standout is Vallarta CoWork. Located in the heart of the city, Vallarta CoWork has consistently ranked high among digital nomads. They offer a variety of membership plans to suit different needs, including daily passes, monthly memberships, and private office rentals. The 24/7 access ensures that you can work according to your own schedule, accommodating time zone differences if you're working with a team based elsewhere.
Similarly, Work & Co offers a stellar co-working experience. Their spaces are beautifully designed and foster creativity. They even provide complimentary coffee to keep those creative juices flowing throughout the day!
I fondly remember a time when I was working on a tight deadline at Work & Co. The internet speed was remarkable – I managed to send large files to my team in no time. I was struck not just by the professional, focus-friendly environment but also the sense of community. People were exchanging ideas, discussing projects and, in their downtime, sharing stories over coffee.
For a change of scene, there are also co-working retreats like SunDesk that combine work with leisure. Located in a villa overlooking the ocean, SunDesk is perfect for when you want to balance productivity with relaxation. Who wouldn't love a quick dip in the pool during a lunch break?
All in all, Puerto Vallarta's co-working spaces are more than just places to work – they're communities where you can make connections, gain new perspectives, and integrate into the local digital nomad scene. While it may seem daunting at first to set up shop in a new city, these spaces make the transition effortless, allowing you to focus on your work and enjoy the vibrant city life at your own pace.
Cafes and Public Spaces
Café culture is vibrant in Puerto Vallarta, and you'll find a multitude of spots to grab a latte and open up your laptop. Let's take a tour of some notable ones where the Wi-Fi is as strong as the espresso.
First, there's A Page in the Sun. Situated just a stone's throw away from the iconic Los Muertos Beach, this café and bookstore is a favorite among locals and expats alike. Their coffee, sourced from their family-run farm in Chiapas, is robust and delightful. I spent countless hours here, sipping their iced mocha, while crafting my first novel. The tranquil ambiance and the background chatter in various languages always managed to stir up my creativity.
Another worthy mention is Café de Olla. While renowned for their traditional Mexican cuisine, they offer a warm, friendly environment ideal for digital nomads. I remember a day when a sudden downpour caught me off-guard while exploring the city. I sought refuge in Café de Olla, ended up ordering their signature enchiladas, and managed to draft a complete project proposal before the rain stopped.
The Green Place is another excellent spot. Not only do they offer great coffee and healthy food options, but their quirky, bright décor is perfect for a productivity boost. A friend of mine, also a digital nomad, swears by their matcha latte for late-afternoon slumps.
If you're looking for something more low-key, La Paloma is a public library and café with a quiet atmosphere ideal for focused work. I once spent a whole day there, working on a particularly challenging project, only realizing how much time had passed when I noticed the stunning sunset outside.
Public spaces are also abundant in Puerto Vallarta. The city's Malecón, a beachside promenade, offers numerous spots where you can sit down, enjoy the view, and get some work done. I have fond memories of brainstorming session for a startup I was consulting with, right on a bench overlooking the sparkling blue ocean.
In Puerto Vallarta, your workspace doesn't have to be confined within four walls. The city offers diverse spaces that cater to every digital nomad's work style and preference.
Social Life and Networking
Living and working in Puerto Vallarta doesn't mean being holed up in your apartment with your laptop all day. This city boasts a vibrant social scene, catering not just to its local residents, but also to the expansive digital nomad community.
There are numerous opportunities to network and socialize with like-minded individuals. Meetup.com, for instance, hosts a number of Puerto Vallarta Digital Nomad Meetups. These gatherings are specifically curated for digital nomads and are great platforms for both networking and making friends.
Remember, networking isn't always formal. For those interested in the local language and culture, Spanish-English Language Exchange Meetups are a fantastic way to learn and practice Spanish, all while meeting new people and gaining deeper insights into the local culture.
And it's not all work and no play. A fun personal anecdote comes to mind: During my own stint as a digital nomad in Puerto Vallarta, I joined a beach volleyball team through a local sports club. Not only did it help me stay active, but it also allowed me to meet a diverse group of people from different walks of life. Some of them even became close friends and business connections!
If you're more of a night owl, Puerto Vallarta's nightlife has a lot to offer. There's a myriad of bars, clubs, and restaurants where you can unwind after a long day's work. A personal favorite is Bar La Playa, an eclectic spot with a wide variety of craft beers and a lively ambiance.
To sum it up, living in Puerto Vallarta provides abundant opportunities to build a social network, learn new skills, and enjoy a rich cultural life, all of which greatly enhance the digital nomad experience.
Health and Well-being in Puerto Vallarta
A balanced lifestyle isn't complete without considering health and well-being.
Local Cuisine and Healthy Eating
When it comes to cuisine, Puerto Vallarta is a culinary haven. You'll find a delightful array of both traditional and modern food options in this vibrant city. As a self-proclaimed foodie and a nutrition-conscious digital nomad, I can vouch for the remarkable gastronomic experiences this city offers.
One must-visit is El Arrayán, a traditional Mexican restaurant located in the heart of downtown Puerto Vallarta. Known for its authentic flavors and use of local ingredients, this eatery is a testament to the city's food culture. The menu even features healthier alternatives and vegetarian dishes, proving that tasty and nutritious food can coexist beautifully. I remember dining here one night, indulging in their Ceviche de Pescado – a delightful dish made with fresh, local fish, tangy lime, and spicy jalapeños. It was a revelation!
Street food in Puerto Vallarta is also a culinary adventure you shouldn't miss. From fresh fruit stalls selling chunks of juicy watermelon, pineapple, and mango to food carts dishing up grilled fish tacos, there's no shortage of healthy and delicious options. One of my favorite breakfast spots is La Cazuela, famous for its cazuelas – a traditional Mexican egg dish cooked in earthen pots. With fresh ingredients and hearty flavors, it's a delightful way to kickstart your day!
Additionally, Puerto Vallarta hosts a Farmers' Market every Saturday, where local farmers and producers sell a wide variety of organic produce, baked goods, and homemade products. As a digital nomad, I found this market invaluable for picking up fresh fruits, vegetables, and local products to whip up nutritious meals at home. Shopping here gives you the chance to support local businesses and contribute to sustainable food practices, which is always a win-win!
In Puerto Vallarta, maintaining a balanced diet while enjoying the local cuisine is far from a challenging task. With a range of restaurants, street food, and local markets, this city not only caters to your taste buds but also your well-being. It's another reason why I believe this city is a fantastic choice for digital nomads like us.
Conclusion
Puerto Vallarta's charm extends beyond its beaches and picturesque sunsets. Its affordable living, dependable internet and workspaces, social opportunities, and focus on health make it a top contender for the best city for digital nomads. If you're seeking a lifestyle change that combines work, travel, and a sense of community, this could be your ideal destination.
FAQs
What's the average cost of living in Puerto Vallarta? 
The average cost of living varies but it's generally much more affordable compared to North American and European cities.
How reliable is the internet in Puerto Vallarta? 
Most parts of the city have reliable high-speed internet, and there are plenty of co-working spaces and cafes for digital workers.
What are some popular social activities for digital nomads in Puerto Vallarta? 
Networking events, beach meetups, language exchange groups, and adventure activities are popular among the digital nomad community.
Is it safe to live in Puerto Vallarta? 
Yes, Puerto Vallarta is generally considered safe for expats and tourists, but like anywhere, it's important to take regular precautions.
Are there fitness facilities in Puerto Vallarta? 
Absolutely! The city offers a range of fitness facilities and outdoor activities to help maintain a healthy lifestyle.