Are you a digital nomad in search of your next adventure? Look no further! Guatemala, known as the "Land of Eternal Spring", offers an enticing mix of natural beauty, cultural richness, and affordable living. But what makes it an ideal destination for digital nomads? Let's explore.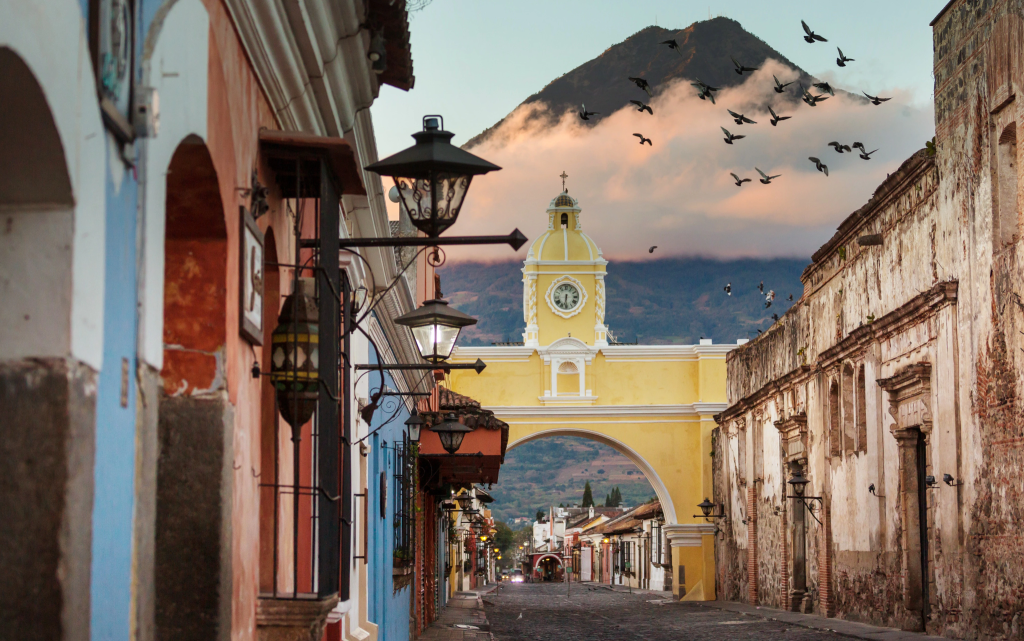 Why Guatemala is an Excellent Choice for Digital Nomads
There's no place quite like Guatemala – a melting pot of cultures, a feast for the senses, and an adventurer's paradise. For digital nomads, it's more than just a destination; it's an enriching experience that can truly transform the way you work and live.
First off, the cost of living is one of the key reasons digital nomads are drawn to Guatemala. According to Numbeo, a monthly budget of around $600-$800 is sufficient to cover basic expenses, including housing, meals, and local transportation. This affordability allows digital nomads to enjoy a comfortable lifestyle while saving a good chunk of their income.
As for internet connectivity, it's pretty reliable, especially in urban areas and popular tourist destinations. Many cafes, restaurants, and co-working spaces in cities like Antigua and Guatemala City provide high-speed internet access that can easily handle video calls, large file transfers, and other work-related tasks.
What's also noteworthy is Guatemala's geographical diversity. Whether you're a beach lover, a mountain enthusiast, or a history buff, there's something for everyone. I remember spending a weekend at Semuc Champey, a natural monument in the heart of the Guatemalan jungle. The turquoise pools, enveloped by lush greenery, were a sight to behold. Such trips not only recharge you but also provide ample inspiration for your work.
Moreover, Guatemala has a rich cultural heritage that digital nomads can immerse themselves in. This country is a tapestry of vibrant indigenous cultures, colonial history, and modern influences. From learning the local languages to participating in traditional festivals, there are countless opportunities for cultural exchange. A personal favorite experience was taking a Mayan cooking class in Lake Atitlán – the unique flavors and cooking techniques were truly fascinating!
Finally, one can't talk about Guatemala without mentioning its warm and friendly people. The locals are incredibly welcoming and are always willing to share their stories and help you navigate their homeland. In Antigua, I was moved by the hospitality of my host family during my Spanish immersion program. Their openness and warmth made me feel right at home.
In summary, Guatemala's affordability, reliable internet connectivity, geographical diversity, rich culture, and friendly people make it an excellent choice for digital nomads. If you're looking for a place that offers more than just a workspace, Guatemala could just be the perfect destination for you.
Top Destinations for Digital Nomads in Guatemala
When it comes to choosing a destination in Guatemala, you're spoiled for choice. Each location has its unique charm and amenities. Let's delve into some of the top spots.
Antigua
Why Digital Nomads Choose Antigua
Antigua, a city that's as picturesque as it is welcoming, has long been a favorite among digital nomads for a myriad of reasons. From its vibrant culture and lifestyle to the promise of leisurely outdoor activities, this charming UNESCO World Heritage Site offers a little bit of everything.
Culture and Lifestyle
Antigua is steeped in a rich history and culture, evident in every cobblestone street and majestic colonial building. The city is home to many Spanish colonial landmarks like the Casa Santo Domingo, a former monastery turned hotel and museum. Festivals such as the renowned Semana Santa (Holy Week) procession showcase the city's deeply rooted Catholic traditions and offer an incredible cultural experience. The locals are friendly and hospitable, adding to the city's charm.
On a personal note, visiting the vibrant Antigua market, buzzing with vendors selling everything from fresh produce to artisanal crafts, was a cultural highlight. I found myself returning week after week, drawn in by the energy and the chance to engage with the local community.
Internet Speeds and Co-working Spaces
The city has a robust infrastructure that supports digital nomads, including reliable high-speed internet. Most cafes and restaurants offer free WiFi, and there are several dedicated co-working spaces such as Impact Hub Antigua, known for its international community and networking events.
Leisure and Outdoor Activities
Outdoor enthusiasts will find plenty to love in Antigua. With its close proximity to volcanoes like Volcán de Agua, Volcán de Fuego, and Volcán Acatenango, hiking is a popular pastime. I had the opportunity to hike up Acatenango and camp overnight, and the sunrise view over the adjacent Fuego volcano was an unforgettable sight.
Aside from hiking, you can take Spanish classes, indulge in the city's thriving food scene, or visit nearby coffee farms for a tour and tasting session. I recommend visiting Filadelfia Coffee Resort for an immersive coffee experience.
Cost of Living
Antigua's cost of living is quite reasonable. As per Numbeo, you can live comfortably in Antigua for around $500-$700 per month, inclusive of housing, food, and other daily expenses. The city offers a range of housing options, from shared housing to private apartments, catering to various budgets.
Challenges
Despite its many perks, living in Antigua does come with challenges. The cobblestone streets, while beautiful, can be difficult to navigate, particularly during the rainy season. Also, while crime rates are lower than in other parts of Guatemala, it's important to take standard safety precautions, especially at night.
In conclusion, Antigua offers a perfect blend of a vibrant lifestyle, work-friendly infrastructure, and leisure activities, all wrapped up in a package that's affordable even by digital nomad standards. If you're looking for a culturally rich experience without compromising on your work, Antigua could be the ideal destination for you.
Lake Atitlán
Why Digital Nomads Choose Lake Atitlán
Lake Atitlán is not just a location; it's a lifestyle that infuses joy and creativity into your everyday living. This stunning lake, surrounded by volcanoes and Mayan villages, is the embodiment of serenity and inspiration. It's no wonder that digital nomads from around the globe find themselves drawn to this magical place.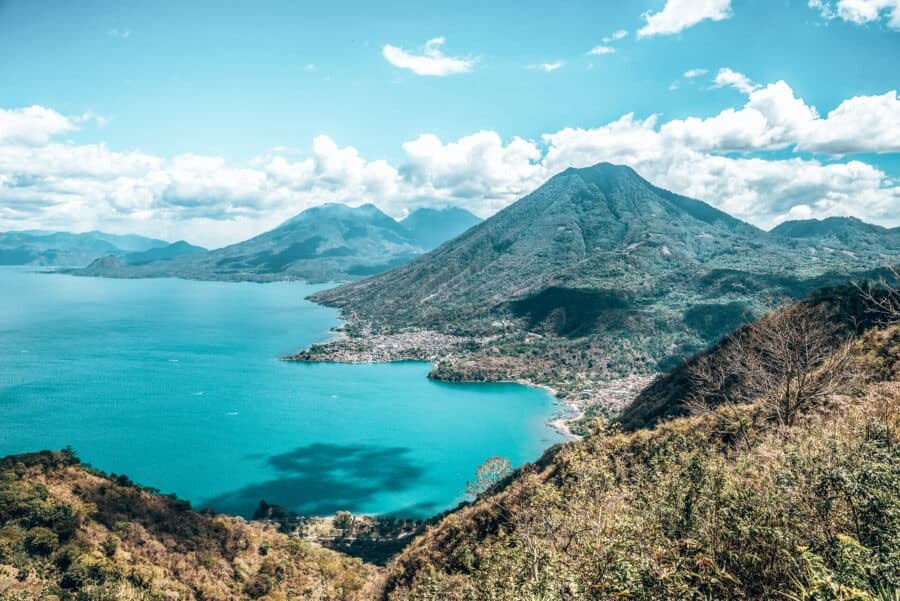 Culture and Lifestyle
Lake Atitlán's culture is a fascinating blend of Mayan traditions and modern influences, creating a unique ambiance that is both comforting and stimulating. Each village around the lake has its distinct character – for instance, San Pedro is known for its lively social scene, while San Marcos La Laguna is a haven for holistic and spiritual practices. I once attended a traditional Mayan ceremony in Santiago Atitlán and was left awestruck by the richness of the indigenous culture.
Internet Speeds
As for internet connectivity, it's fairly reliable in most villages around Lake Atitlán, though it might not be as fast as in larger cities. Many accommodations offer Wi-Fi, and there are internet cafes available. Upgrades to the internet infrastructure are continually being made, so the situation keeps improving.
Co-working Spaces
When it comes to co-working spaces, Selina Atitlán in Panajachel provides a productive environment with stunning lake views. They offer fast internet, comfortable workstations, and a vibrant community of digital nomads, making it an ideal spot to work from.
Leisure and Outdoor Activities
Lake Atitlán's natural beauty offers countless opportunities for outdoor activities. From hiking the San Pedro Volcano to kayaking on the serene lake, there's always something adventurous to do. I recall a day when I went paragliding over the lake – the view from the top was absolutely breathtaking and an experience I'll never forget.
Cost of Living
Cost of living around Lake Atitlán is significantly lower compared to many parts of the world. According to Numbeo, a single person's monthly costs without rent can be around 500$ which makes it an affordable option for digital nomads.
Challenges
However, living in Lake Atitlán does come with its challenges. It's crucial to be aware that some amenities you may be accustomed to might not be readily available. Power outages can occur, and it's wise to have a backup plan for work. And while the beauty of the lake is unquestionable, water pollution is a significant issue that's being addressed by organizations like Amigos del Lago.
In conclusion, Lake Atitlán is a remarkable place for digital nomads who appreciate natural beauty, cultural experiences, and a peaceful lifestyle. It's a place where work blends effortlessly with leisure, allowing you to live a balanced and fulfilling life.
Guatemala City
Advantages of Staying in Guatemala City
When it comes to life as a digital nomad in Guatemala, there's no place quite like Guatemala City, the country's vibrant and bustling capital. It's an exciting fusion of tradition and modernity, with a culture that's as rich as it is diverse.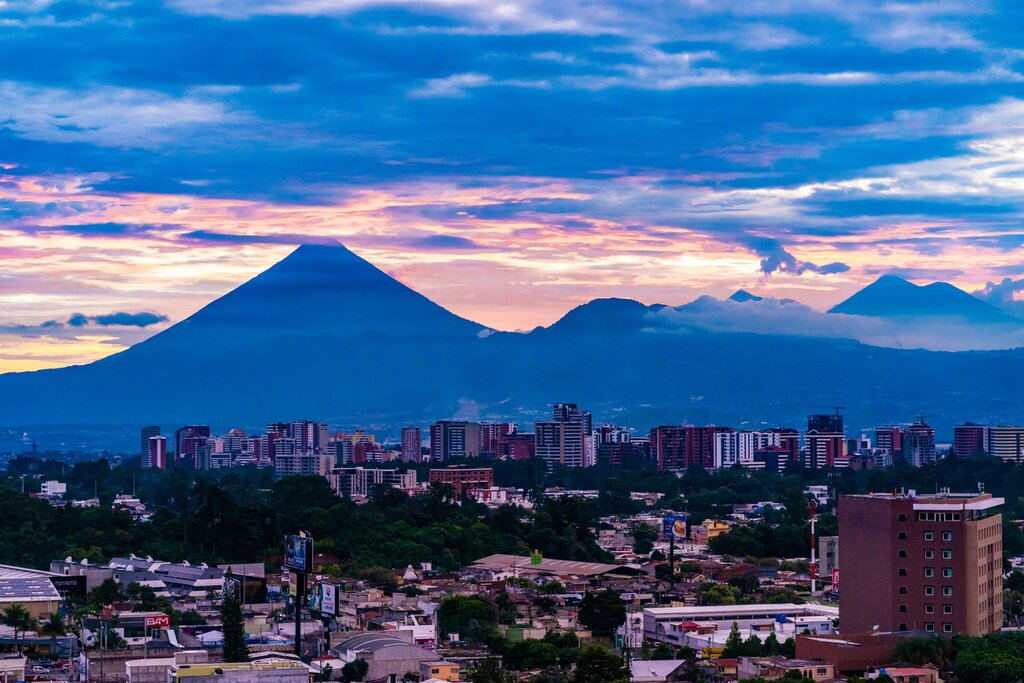 Culture and Lifestyle
Guatemala City, affectionately known as Guate, is a bustling hub where tradition meets modernity. The city is filled with historic buildings like the Palacio Nacional and the Metropolitan Cathedral, sitting alongside contemporary galleries like Proyectos Ultravioleta. The vibrant street food scene, bustling markets like Mercado Central, and local events create a lively atmosphere that keeps you engaged. My first visit to the annual Jazz Festival was an unforgettable experience, exposing me to the city's music scene and its love for the arts.
Internet Speeds and Co-working Spaces
The city is well-equipped for digital nomads, boasting high-speed internet and a range of modern co-working spaces. Spaces like Campus Tecnológico and Impact Hub are popular among remote workers, providing not just excellent facilities but also a community of like-minded individuals. With their tech-forward approach, they ensure you stay connected and productive.
Leisure and Outdoor Activities
For outdoor enthusiasts, Guatemala City doesn't disappoint. From Parque Zoológico La Aurora to La Ruta del Yalu, there's no shortage of attractions. I personally enjoy strolling through Parque Central, the city's main square, and people-watching over a cup of local coffee. For a more active pursuit, the city's nearby volcanoes like Pacaya offer excellent hiking opportunities.
Cost of Living
Compared to many Western cities, the cost of living in Guatemala City is quite reasonable. As per Numbeo, the average monthly rent for a one-bedroom apartment in the city center is around $400, while eating out at a local restaurant can cost as little as $5.
Challenges
While Guatemala City has much to offer, it's important to be aware of its challenges. Like any big city, it has areas that are safer than others, and traffic can be heavy during peak hours. However, with a bit of research, local advice, and common sense, you can navigate these challenges and make the most of your stay.
In conclusion, Guatemala City offers a rich blend of cultural experiences, practical resources, leisure opportunities, and a comfortable cost of living for digital nomads. The challenges it presents are far outweighed by the benefits and experiences it offers.
Flores
The Allure of Flores for Digital Nomads
Perched on a beautiful lake, Flores is an enchanting island town that has carved a niche for itself in the hearts of digital nomads. The town is as inviting as the locals are friendly, making it an ideal location for those seeking a break from the hustle and bustle of city life.
Culture and Lifestyle
Flores is a blend of vibrant local culture and the relaxed island lifestyle. The cobblestone streets, pastel-colored buildings, and the beautiful Lake Petén Itzá that surrounds the town create a picturesque setting for your everyday life. The town is compact, which promotes a sense of close-knit community among locals and expats alike. A walking tour through the narrow streets, arranged by Guatemala Travel, gave me the opportunity to appreciate the local architecture and immerse myself in the town's slow-paced life.
Internet Speeds
Internet accessibility is crucial for digital nomads, and Flores doesn't disappoint. While the speed might not match that of a big city, it's sufficient for most digital work. There are several cafes and restaurants that offer free WiFi for customers. I found Cool Beans Cafe to be a reliable spot with good internet connectivity and an excellent selection of coffee.
Co-working Spaces
While Flores may not have traditional co-working spaces, many cafes and restaurants double up as comfortable workspaces. These establishments offer a peaceful environment to work, complemented by the stunning views of Lake Petén Itzá.
Leisure and Outdoor Activities
If you're an outdoor enthusiast, Flores has plenty to offer. You can indulge in water sports on Lake Petén Itzá, take a boat ride to the surrounding villages, or explore the neighboring jungles. The town is also a gateway to Tikal National Park, one of the most significant Mayan archaeological sites. My personal highlight was witnessing the breathtaking sunrise from the top of a Mayan pyramid – an experience I'd highly recommend.
Cost of Living
The cost of living in Flores is lower compared to Guatemala's larger cities. Rent for a decent apartment ranges from $200-$400 per month, and meals at local eateries cost around $3-$5. This affordability allows digital nomads to enjoy a comfortable lifestyle without breaking the bank.
Challenges
While Flores is a charming place to live, it has its share of challenges. Language could be a barrier as Spanish is widely spoken, and understanding a bit of it would enhance your experience. Also, during peak tourist seasons, the town can get quite busy. However, these challenges are manageable and are far outweighed by the unique experiences Flores has to offer.
In conclusion, Flores is a tranquil and charming destination for digital nomads, offering a unique blend of local culture, outdoor activities, and affordable living, all wrapped up in a serene island setting.
How to Choose the Right Destination
Choosing the right destination as a digital nomad is a crucial decision that can significantly influence your work-life balance, productivity, and overall life satisfaction. Here's a detailed guide on how to make an informed decision:
Understand your preferences: Start by asking yourself what you seek in a destination. Do you crave the vibrant energy of a city or the tranquility of a small town? Are you an outdoors enthusiast or a history buff? Understanding your personal preferences will help you narrow down your options. For instance, if you're into history and culture, Antigua with its colonial charm and vibrant local culture could be a great choice.
Cost of living: It's crucial to research the cost of living in potential destinations. Websites like Numbeo and Expatistan can provide useful insights. Remember, living within your means while being able to save money contributes to financial stability and peace of mind.
Internet reliability: Reliable internet is a non-negotiable for digital nomads. Check out Nomad List for information about internet speeds in various locations. When I was considering Flores, I checked the internet speeds beforehand to ensure I could stay connected with my clients seamlessly.
Co-working spaces: If you prefer working in co-working spaces, check their availability in your prospective destination. Platforms like Coworker can help you find co-working spaces worldwide.
Community: Consider the local and expat communities in your chosen location. A supportive community can make your stay more enjoyable and less lonely. It was the warm, welcoming community of Lake Atitlán that truly made my stay memorable and enriching.
Safety: Safety should be a top priority when choosing a destination. Resources such as OSAC provide valuable safety information for various locations worldwide.
Visa regulations: Visa rules differ from country to country. Be sure to check the visa requirements and regulations for your chosen destination. Websites like VisaHQ can provide this information.
Climate: If you prefer certain climates, consider this in your decision-making process. Guatemala, for example, is known as the "Land of Eternal Spring" due to its consistently pleasant climate.
Trial Stay: If you're unsure about a destination, consider a trial stay. This will give you a sense of what it would be like to live there longer term.
Choosing the right destination involves careful consideration and thorough research. However, remember that no place is perfect, and part of the excitement of being a digital nomad is adapting to new environments. So, pack your bags, embrace the journey, and remember that home is where your laptop is!
Living in Guatemala as a Digital Nomad: What to Expect
Guatemala is a country that seamlessly combines modern conveniences with a rich historical legacy, creating a captivating living experience for digital nomads. While every person's experience will differ based on their chosen city and lifestyle, there are some common aspects that make living in Guatemala unique.
Cultural Immersion
Guatemala is a cultural melting pot with a significant Mayan influence. Living here gives you the chance to immerse yourself in this rich heritage. You can learn a Mayan language, participate in local festivals, or even explore ancient ruins like Tikal, an experience that transports you back in time. I vividly recall my visit to Chichicastenango Market, one of the largest traditional markets in Central America. The vibrancy, the colors, and the authentic handcrafted artifacts were truly a feast for the senses.
Language
While Spanish is the official language, over 20 indigenous languages are spoken in Guatemala. Knowledge of Spanish is beneficial and makes daily communication easier. Plenty of language schools, like the Proyecto Linguistico Francisco Marroquin in Antigua, offer Spanish classes. Engaging in a language exchange with locals can also enhance your learning experience.
Climate
Known as the "Land of Eternal Spring", Guatemala enjoys a pleasant climate throughout the year. There are two primary seasons – the dry season (November to April) and the rainy season (May to October). However, do bear in mind that the weather can vary across different regions.
Food
Guatemalan cuisine is a flavorful blend of local and colonial influences. Staples include corn, beans, and chili peppers, complemented by a variety of fruits and vegetables. From enjoying a hearty breakfast of "desayuno chapin" to relishing the iconic "pepian" stew, food becomes an integral part of your Guatemalan journey. My personal favorite is the "pupusa", a delicious stuffed tortilla that you must try.
Safety
Like anywhere else, safety in Guatemala can depend on the area. While the country has made significant strides in improving safety, it's always important to stay vigilant, especially in larger cities. Websites like OSAC provide useful safety and security reports.
Travel Opportunities
Living in Guatemala also means easy access to other Central American countries like Mexico, Belize, Honduras, and El Salvador. The well-connected Litegua bus service offers comfortable travel options to explore these neighboring countries.
Living in Guatemala, with its blend of old-world charm and modern amenities, offers an enriching and stimulating experience for digital nomads. Whether it's the cultural immersion, the flavorsome cuisine, or the pleasant climate, the country provides a unique backdrop that enhances your remote working journey. Remember, it's more than just a place to live; it's a place to grow, learn, and create unforgettable memories.
Conclusion
Whether you're a history enthusiast, a nature lover, or a city slicker, Guatemala offers a destination that will suit your digital nomad lifestyle. Immerse yourself in the rich culture, enjoy the delicious cuisine, or simply bask in the country's natural beauty, all while maintaining a productive work life. Guatemala truly is a paradise for digital nomads.
FAQs
What is the cost of living in Guatemala for a digital nomad? 
It can vary, but generally, it's quite affordable compared to many other countries.
Is the internet reliable in Guatemala? 
Yes, especially in cities and popular tourist spots.
Is Guatemala safe for digital nomads? 
Like any country, it has safe and less safe areas. Research and local advice are key to ensuring your safety.
Do I need to know Spanish to live in Guatemala? 
While not essential, learning Spanish can enhance your experience and interactions with locals.
What's the weather like in Guatemala? 
Guatemala is known as the "Land of Eternal Spring" for its consistently pleasant weather throughout the year.