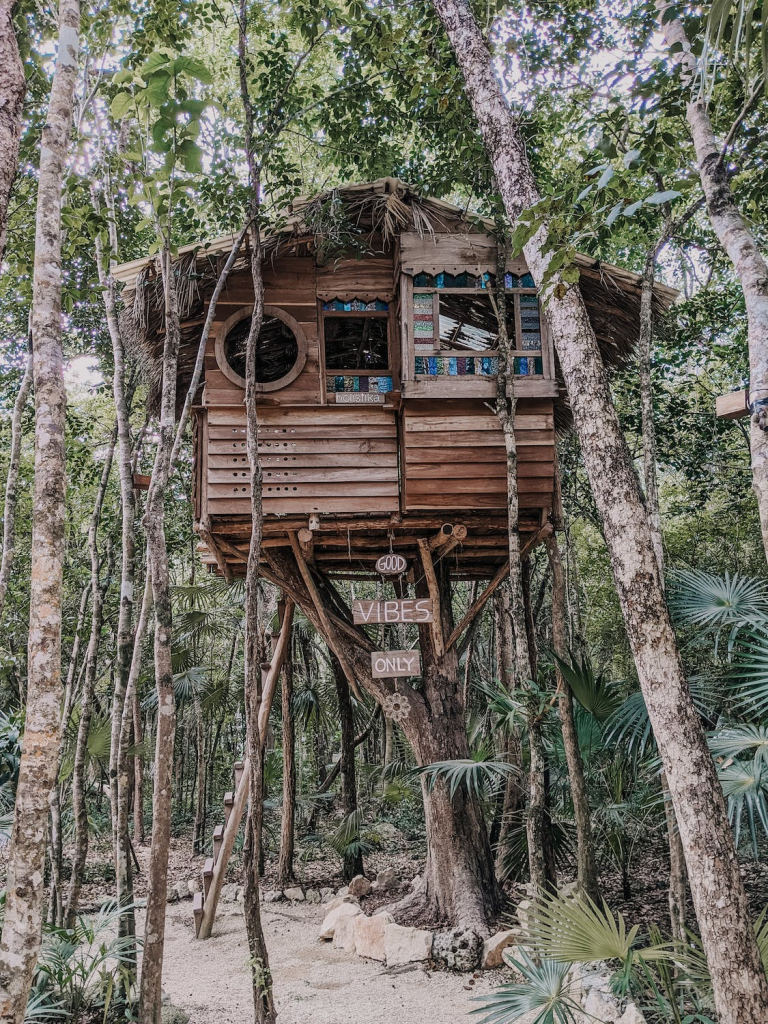 Hey there fellow digital nomad! If you're anything like me, you're always on the lookout for the next incredible place to call your temporary home. Let me tell you, I've stumbled upon a real gem: Tulum, Mexico. I've spent quite some time there, and I'm convinced that it might be the best city for digital nomads like us. Why, you ask? Keep reading and I'll share with you all the reasons that made me fall in love with Tulum. Check out this link for a great travel guide to get you started.
P.S. Don't forget to share your own experiences and favorite destinations in the comments below!
The Attraction of Tulum for Digital Nomads
One of the primary reasons digital nomads, like myself, are drawn to Tulum is its breathtaking natural beauty. The city boasts some of the most picturesque white-sand beaches, such as Playa Paraiso and Playa Ruinas, which have consistently topped the lists of must-visit beaches. The clear turquoise waters of the Caribbean Sea are so inviting that you can't resist taking a dip or going snorkeling to explore the underwater world.
One of my favorite memories from Tulum is taking a day trip to the Sian Ka'an Biosphere Reserve, a UNESCO World Heritage Site. This protected area is home to a diverse ecosystem of mangroves, lagoons, and tropical forests, which I had the chance to explore on a guided tour. It was a breathtaking experience, filled with encounters of unique wildlife and birds. The reserve also offers access to secluded beaches, where I was able to relax and soak up the sun away from the crowds.
Another unforgettable moment in Tulum was when I rented a bike and cycled to the Tulum Ruins. The ancient Mayan site sits atop a cliff overlooking the beautiful coastline, offering a view that left me in awe. The combination of history, culture, and stunning scenery made this adventure truly special.
These idyllic surroundings offer an inspiring atmosphere for digital nomads to work and relax. Trust me when I say, watching the sunset over the ocean after a productive workday is an experience that never gets old.
Rich Cultural History
Tulum's fascinating cultural history is another draw for digital nomads like myself. During my time there, I was captivated by the ancient Mayan ruins nestled along the picturesque coastline. I remember the awe-inspiring feeling when I first set eyes on the iconic El Castillo perched atop a cliff overlooking the turquoise sea.
Taking a guided tour of the Tulum Archaeological Site was an unforgettable experience. It was incredible to learn about the rich history of the ancient Mayan civilization and their architectural prowess. Walking through the ruins, I couldn't help but imagine what life must have been like for the Mayans who once called Tulum home.
Apart from the ruins, Tulum's vibrant art scene also offers a cultural feast. The city is dotted with galleries showcasing local and international artists. I recall stumbling upon a hidden gem, a small art gallery tucked away in the heart of the city. The paintings and sculptures exhibited there gave me a deeper appreciation for the creative talent that thrives in Tulum.
Lastly, don't miss out on the chance to experience the traditional Mayan ceremonies, such as the Temazcal sweat lodge ritual. I had the opportunity to participate in one, and it was a transformative experience that left me feeling revitalized and connected to Tulum's spiritual roots.
In short, Tulum's rich cultural history offers a unique and immersive experience that can add depth and meaning to your time spent working remotely in this stunning city.
Safety and Security
When it comes to feeling safe and secure in a new city, Tulum definitely delivers. From my personal experience, I found Tulum to be an incredibly welcoming and friendly destination for digital nomads. The locals are warm, and they genuinely make you feel like a part of the community.
One evening, I accidentally left my backpack—with my laptop and other valuables—at a beachfront café. To my surprise, when I rushed back to the café after realizing my mistake, the staff had kept it safe for me. They even shared a laugh with me about how forgetful we can be sometimes. This incident reinforced my belief in the kind-heartedness of the Tulum community.
Although Tulum has relatively low crime rates, it's always wise to take necessary precautions. I followed some basic safety tips, like keeping my belongings secure and being aware of my surroundings, especially at night. Websites like Numbeo and SafeAround offer valuable insights into crime rates and safety advice for Tulum.
During my time in Tulum, I found that expats and fellow digital nomads also played a significant role in fostering a sense of security. Joining local Facebook groups and attending meetups allowed me to connect with others who shared their own safety tips and experiences, which made me feel even more at ease.
In summary, Tulum's friendly atmosphere and low crime rates create a comfortable environment for digital nomads to work and socialize. By taking basic safety precautions and connecting with fellow travelers, you can make the most of your time in this beautiful city.
Weather in Tulum
Tulum's weather can be described as tropical, with warm temperatures and sunny days throughout the year. However, there are variations in the climate depending on the time of year. Let me share some of my experiences and insights on Tulum's weather to help you plan your trip better.
Dry Season (November to April)
The dry season in Tulum is my personal favorite time to visit, as it offers the most comfortable weather conditions. Temperatures during this time range between 70°F (21°C) and 85°F (29°C), making it perfect for exploring the beaches and ruins. I recall spending an entire day visiting the Tulum Ruins without breaking a sweat, thanks to the pleasant temperatures and lower humidity.
One thing to note is that December to February can be slightly cooler during the evenings, so it's a good idea to pack a light jacket or sweater. You can check Weather.com for the latest weather updates and pack accordingly.
Wet Season (May to October)
Tulum's wet season is characterized by higher humidity and increased rainfall. The temperatures are slightly warmer, ranging from 75°F (24°C) to 90°F (32°C). During my stay in June, I experienced a mix of sunny days and occasional rain showers, which helped cool things down a bit. However, the humidity was noticeable, so I made sure to stay hydrated and take breaks in air-conditioned spaces.
Despite the higher chances of rain, you can still enjoy Tulum's beauty during the wet season. Just make sure to pack an umbrella and be prepared for sudden showers. Websites like AccuWeather can help you keep track of precipitation forecasts.
Hurricane Season (June to November)
While Tulum is not immune to hurricanes, the city is relatively protected due to its location on the Yucatan Peninsula. I was fortunate not to experience any hurricanes during my visits, but it's essential to stay informed and prepared during the hurricane season. Keep an eye on local news and resources like the National Hurricane Center for updates.
In conclusion, the weather in Tulum can vary depending on the season, but its tropical climate ensures warm temperatures and sunshine throughout the year. Be prepared for the specific conditions during your visit, and you'll have a fantastic time enjoying this beautiful city!
Affordable Cost of Living
You know, one of the best things about Tulum is how affordable it is to live there. I remember when I first arrived, I was pleasantly surprised by how my budget stretched further than I expected. Let me tell you more about it.
Housing Options
When I first arrived in Tulum, I was amazed by the variety of housing options available to suit every budget and lifestyle. I personally started my journey by staying at a hostel for a week to get a feel of the city and meet fellow travelers. It was an affordable and social option that helped me settle in.
Once I got my bearings, I began looking for a more permanent place to stay. I found that Tulum offers everything from budget-friendly studios to luxurious beachfront villas. For me, the ideal solution was a monthly rental on Airbnb in the Aldea Zama neighborhood. It was a stylish one-bedroom apartment with a small garden, a shared pool, and solid Wi-Fi—perfect for a digital nomad like me.
If you're looking for even more affordable options, you can check out the local Facebook groups such as Rentas Tulum or Tulum Rentals & Roommates. These groups are a goldmine of listings and a great way to connect with locals who can help you find the perfect place to call home.
Another alternative worth considering is co-living spaces. They're designed specifically for digital nomads and remote workers, offering private or shared rooms, workspaces, and common areas where you can socialize and network with like-minded individuals.
In my experience, the key to finding the perfect housing option in Tulum is to give yourself some time to explore the city and its neighborhoods. You'll soon discover the perfect spot that fits your needs and budget, allowing you to enjoy all that Tulum has to offer.
---
Where to Stay
---
Food and Dining
One of the things I absolutely adored about my time in Tulum was the diverse and mouthwatering food scene. From street food to fine dining, there's something to satisfy every palate and budget.
My mornings often started with a hearty Mexican breakfast from a local gem called Sale e Pepe, where I enjoyed their huevos rancheros or chilaquiles. They were the perfect fuel to kickstart a productive day.
For lunch, I couldn't resist the delicious tacos from Antojitos La Chiapaneca. Their al pastor tacos were out of this world, and at just a few pesos each, they were easy on the wallet too.
When I felt like treating myself to a more upscale dining experience, I'd head to Hartwood, an open-air restaurant that sources ingredients locally and cooks everything on a wood-burning stove. Their menu changes daily, but trust me, everything they serve is exceptional.
I also loved exploring Tulum's vibrant vegan scene. Raw Love quickly became one of my favorite spots for smoothie bowls, raw desserts, and fresh juices. Their laid-back atmosphere, complete with hammocks and a jungle setting, made it the perfect spot to relax and recharge.
As a digital nomad, I appreciated how Tulum catered to my culinary cravings without breaking the bank. The city's food scene was a delightful mix of traditional Mexican cuisine, international flavors, and health-focused eateries, making it a food lover's paradise.
Transportation
One of the perks of living in Tulum is that getting around town is a breeze. I found the city's compact size perfect for walking or cycling. In fact, when I first arrived, I rented a bike and it quickly became my go-to mode of transportation. Not only was it a healthy and eco-friendly choice, but it also allowed me to explore Tulum's hidden gems at my own pace.
For those who prefer motorized transportation, there are affordable options like renting a scooter or using the local taxi services, which I occasionally did when I had to carry a heavier load. Just make sure to agree on the fare before getting in, as taxis in Tulum don't typically use meters. You can also use ride-hailing apps like Kabi for a more convenient experience.
For longer trips outside Tulum, I found the ADO bus service super helpful. They offer connections to popular destinations like Cancun, Playa del Carmen, and even Mexico City. The buses are comfortable, air-conditioned, and reasonably priced, making it easy to explore the beautiful Yucatan Peninsula without breaking the bank.
And for those memorable day trips to nearby attractions, such as the stunning Cenotes or the Sian Ka'an Biosphere Reserve, I often joined group tours or rented a car with fellow digital nomads to split the cost. Overall, I found Tulum's transportation options to be reliable, affordable, and diverse, catering to every digital nomad's needs.
So, if you're considering Tulum as your next digital nomad destination, trust me, the cost of living won't disappoint. It's an amazing place to work and live without breaking the bank.
Nightlife
Tulum's nightlife scene is one of a kind, offering an eclectic mix of experiences for everyone. Trust me, I've had some unforgettable nights in this vibrant city.
For a laid-back evening with friends, head over to Batey Mojito & Guarapo Bar. It quickly became my go-to spot for delicious mojitos made with fresh sugar cane juice. The atmosphere is relaxed, with live music setting the perfect mood for a chill night out.
If you're looking to dance the night away, Papaya Playa Project is the place to be. This eco-friendly beach club hosts Full Moon parties and other events with international DJs spinning tunes late into the night. I still remember the fantastic energy and the gorgeous beachfront setting, which made for an unforgettable party experience.
For a more intimate and sophisticated vibe, I highly recommend Gitano Tulum. This jungle oasis offers craft cocktails, incredible cuisine, and live music that ranges from flamenco to electronic beats. One of my favorite memories is sipping on a mezcal-based cocktail by the bonfire, surrounded by the lush greenery and twinkling fairy lights.
Another gem I discovered was Pasito Tun Tun. This cozy mezcal bar, tucked away in the heart of Tulum, is the perfect spot to unwind with friends or make new ones. Their extensive mezcal selection and knowledgeable bartenders made it a favorite among locals and travelers alike.
For those seeking a more cultural experience, Kiki Tulum offers live performances, art exhibitions, and film screenings. I was lucky enough to catch a live jazz show during my stay, and it was a fantastic way to immerse myself in the local arts scene.
No matter your preference, Tulum's nightlife has something for everyone. From beach parties to intimate bars, this city will undoubtedly leave you with memories that last a lifetime.
Networking and Socializing Opportunities
Co-working Spaces
During my time in Tulum, I discovered some fantastic co-working spaces that not only provided all the essentials I needed for work but also fostered a sense of community. I'll share some of my personal favorites and experiences with you.
One spot that quickly became my go-to was Tribu Co-work. The space is a blend of rustic charm and modern amenities, making it a unique and comfortable place to get work done. They offer reliable high-speed Wi-Fi, air conditioning, and plenty of desk options to suit your preferences. Plus, their lovely outdoor patio is perfect for taking breaks and enjoying the sunshine. I met some incredible fellow digital nomads there and even participated in a few collaborative projects!
Another co-working gem I came across in Tulum was Jungle Co-working. As the name suggests, the space is surrounded by lush greenery, providing a tranquil and inspiring work environment. With 24/7 access, you have the flexibility to work at your own pace and schedule. I loved their dedicated quiet areas, which allowed me to focus and be productive. They also host regular events and workshops, which I found extremely valuable in expanding my skills and knowledge.
For those seeking a more unconventional co-working experience, I stumbled upon Beachbox Coworking. Located right on the beach, this spot offers a unique opportunity to work with a view of the stunning ocean. The vibe is relaxed and casual, and I found it to be an excellent place for brainstorming and networking. Plus, there's nothing quite like taking a quick swim in the sea during your lunch break!
These co-working spaces in Tulum not only offer a productive work environment but also create opportunities for networking, collaboration, and personal growth. I can't emphasize enough the value these spaces brought to my digital nomad experience in Tulum.
Digital Nomad Communities
When I first arrived in Tulum, I was surprised by how quickly I felt at home, thanks to the thriving digital nomad community that welcomed me with open arms. There's a great sense of camaraderie among remote workers here, and it's easy to find like-minded people to connect with, learn from, and share adventures.
During my stay, I joined the Tulum Digital Nomads Facebook group, which was an invaluable resource for everything from finding accommodations to discovering the best co-working spots. The group also organizes regular meetups, which allowed me to make friends and build a support network in no time.
One memorable experience was when a fellow nomad organized a weekend getaway to the nearby Sian Ka'an Biosphere Reserve. A group of us rented a van and set off on an adventure filled with wildlife spotting, exploring ancient Mayan ruins, and swimming in crystal-clear cenotes. It was an unforgettable bonding experience with my new digital nomad friends.
Another fantastic resource is Nomad List, which provides detailed information on living and working in Tulum as a digital nomad. You can find reviews, recommendations, and even connect with fellow remote workers through their online community.
If you're a digital nomad looking for a place to call home, Tulum's tight-knit and supportive community will surely make your transition seamless and enjoyable.
Events and Meetups
During my time in Tulum, I discovered a variety of events and meetups that catered specifically to the digital nomad community. I attended a fantastic Skillshare workshop on digital marketing at a local co-working space, where I picked up some valuable tips and techniques to enhance my own online business.
One of my favorite experiences was joining a weekly language exchange meetup that brought together digital nomads, expats, and locals. Not only did it help me improve my Spanish, but it also allowed me to make connections with people from diverse backgrounds, creating an enriching cultural exchange.
I also stumbled upon a mindfulness retreat specifically designed for remote workers, where I learned techniques to help manage stress and maintain focus during long workdays. This experience proved to be invaluable for my overall well-being and productivity.
For those interested in staying active and fit, Tulum offers a range of outdoor fitness classes, from beach yoga to group runs in the nearby jungle. I tried a sunset beach yoga class, and it was an incredibly refreshing and invigorating way to wrap up my workday.
In short, Tulum's thriving digital nomad scene ensures there are always events and meetups tailored to suit your interests and needs. Whether you're looking to expand your skillset, meet new people, or simply unwind, Tulum has you covered.
Quality of Life
Work-Life Balance
In my experience, Tulum offers an unbeatable work-life balance that I couldn't help but fall in love with. The city has a certain laid-back atmosphere that encourages you to unwind and appreciate life beyond your work.
During my time there, I found plenty of ways to relax and recharge after a productive day of work. For instance, I would often take a stroll along the breathtaking Tulum Beach, where I could watch the waves roll in and let my thoughts wander. On weekends, I'd grab my mask and snorkel and head to the nearby Casa Cenote to explore the crystal-clear waters and marvel at the colorful marine life.
One of my favorite memories from Tulum is when I rented a bike and pedaled my way to the Tulum Ruins. As I cycled through the jungle, I couldn't help but feel grateful for the incredible work-life balance that Tulum had to offer.
Another great aspect of life in Tulum is the variety of wellness activities available. I found myself attending yoga classes and enjoying massages at the Mayan Clay Spa, which helped me stay centered and focused on my work.
In Tulum, achieving a fulfilling work-life balance felt effortless. The city's stunning natural beauty and abundant leisure opportunities made it the perfect place to live, work, and play.
Health and Fitness
As a digital nomad, staying active and healthy is essential. Trust me, I've learned this the hard way! Thankfully, Tulum is a haven for health and wellness enthusiasts like me. There are countless ways to stay fit and feel your best in this vibrant city.
Yoga is massive in Tulum, and I can personally vouch for its transformative effects. I took classes at Yoga Dicha Studio during my stay, and it was an incredible experience. The talented instructors and the serene atmosphere made it easy to find balance and peace of mind. For a more immersive experience, you can also check out Holístika Tulum, which offers various workshops, retreats, and yoga classes.
If you're into fitness, you'll love Tulum's boutique gyms and fitness studios. I joined Tulum Jungle Gym, which is a unique, outdoor gym right on the beach. It's made of natural materials like bamboo and wood, and working out there was an absolute blast. Plus, the view was unbeatable!
For outdoor enthusiasts, Tulum is a dream come true. One of my favorite activities was exploring the Sian Ka'an Biosphere Reserve, where I got to hike, birdwatch, and even snorkel in the crystal-clear waters. Don't miss out on visiting the stunning cenotes, which are natural sinkholes filled with fresh water. They're perfect for swimming and diving, and I was in awe of their otherworldly beauty.
Overall, Tulum offers countless ways to stay healthy and active while working remotely. With so many options available, it's impossible to get bored or stuck in a rut. So, if you're looking for a destination that supports your health and fitness goals, look no further than Tulum.
Environment and Sustainability
During my time in Tulum, I was thrilled to see the city's commitment to preserving its natural beauty and promoting eco-friendly practices. I remember staying at an eco-conscious hotel that used solar panels for energy and had an on-site water treatment system. It felt great knowing that my stay was contributing to a greener Tulum.
I also had the chance to take part in a beach cleanup event organized by a local group of expats and digital nomads. It was an eye-opening experience, as we collected plastic waste and other debris to keep the beaches pristine for future generations.
Tulum is also home to several sustainable restaurants that focus on locally-sourced, organic ingredients and minimize waste. I had the pleasure of dining at a farm-to-table eatery, where I enjoyed a delicious meal knowing it was prepared with care for the environment.
Another way Tulum embraces sustainability is through eco-tours and activities. I took an unforgettable snorkeling trip to the nearby coral reefs, where the tour operator emphasized responsible practices and the importance of preserving the marine ecosystem.
By embracing these environmentally-friendly choices as a digital nomad, you can contribute to Tulum's sustainability efforts and experience a more meaningful connection to the city and its surroundings.
Tulum for Families
Tulum isn't just a paradise for digital nomads; it's also a fantastic destination for families. With its stunning natural beauty, fun activities, and kid-friendly attractions, there's something for everyone. Let me share some of the highlights from my own family vacation to Tulum.
Beach Time and Water Activities
The beautiful beaches in Tulum are perfect for family bonding. We had a great time building sandcastles and splashing in the crystal-clear waters. If your kids are a little older, you might also want to try some water sports like snorkeling or paddleboarding. We booked a guided snorkeling tour and got to swim alongside colorful fish and sea turtles—a truly unforgettable experience.
Exploring Cenotes
Tulum is famous for its stunning cenotes—natural swimming holes formed by underground rivers. Our family visited the Gran Cenote, and the kids had a blast exploring the crystal-clear water and hidden caves. Be sure to pack life jackets for the little ones, as some cenotes can be deep.
Visiting Ancient Ruins
The ancient Mayan ruins in Tulum are a must-see, even for families. We took a guided tour of the Tulum Archaeological Site and marveled at the impressive El Castillo. The kids loved learning about the history and imagining what life was like for the ancient Maya civilization.
Kid-Friendly Accommodations
Finding family-friendly accommodations in Tulum is a breeze. We stayed at an amazing family-friendly Airbnb with a pool, which the kids couldn't get enough of. There are also plenty of family-friendly hotels and resorts in the area that cater specifically to families, offering amenities like kids' clubs, babysitting services, and children's activities.
Dining with Kids
Tulum has a wide variety of kid-friendly restaurants that cater to even the pickiest of eaters. Our family loved dining at Sale e Pepe, an Italian restaurant with a relaxed atmosphere and a delicious menu that pleased both the adults and the little ones. We also had a fantastic time at La Nave Pizzeria, where we enjoyed mouthwatering pizzas and a family-friendly ambiance.
Outdoor Adventures
Tulum offers countless opportunities for outdoor family adventures. We visited the Sian Ka'an Biosphere Reserve, a UNESCO World Heritage site, where we took a guided tour and marveled at the diverse flora and fauna. We also spent an exciting day at Xel-Há Park, an all-inclusive water park with snorkeling, zip-lining, and other fun activities that the entire family enjoyed.
Safety Precautions
Tulum is a safe destination for families, but it's still essential to take necessary precautions. Keep an eye on your kids at the beach and cenotes, and be cautious when exploring the jungle. It's also a good idea to bring a travel medical kit and ensure your family's vaccinations are up to date before traveling.
In conclusion, Tulum is an excellent destination for families looking to create unforgettable memories. With its beautiful natural attractions, engaging activities, and family-friendly accommodations and dining options, there's something for everyone to enjoy in this magical city.
Conclusion
Tulum's captivating natural beauty, affordable cost of living, networking opportunities, and high quality of life make it a strong contender for the best city for digital nomads. If you're considering a new destination for your remote work adventure, Tulum should be at the top of your list.
FAQs
What is the internet speed like in Tulum?
Tulum offers reliable and fast internet connections, especially in co-working spaces and popular accommodations. A high-speed internet connection is crucial for digital nomads, and Tulum delivers on this front.
Do I need to speak Spanish to live in Tulum?
While knowing Spanish is helpful, it is not a requirement to live in Tulum. Many locals and businesses in the city speak English, making it easier for digital nomads to communicate and navigate daily life.
What is the best time of year to visit Tulum?
The best time to visit Tulum is during the dry season, which typically lasts from November to April. During this time, you can expect warm temperatures and minimal rainfall, perfect for enjoying outdoor activities and exploring the city.
How can I find long-term accommodations in Tulum?
You can find long-term accommodations through popular rental platforms, local listings, or by connecting with other digital nomads and expats in the city. Co-living spaces are also an option, providing affordable and community-oriented living arrangements.
Is Tulum a good place for solo digital nomads?
Absolutely! Tulum's friendly atmosphere, active digital nomad community, and numerous networking opportunities make it an ideal destination for solo digital nomads looking to make connections and enjoy a fulfilling remote work experience.
Where are the WhatsApp groups for Digital Nomads in Tulum?
You can find all of the Whatsapp groups for digital nomads inside Nomad Grab's app.  Inside our app, you can filter by country, and city to find the active Whatsapp communities and groups for your destination city.  You can also filter the groups by interest, like hiking, sports, or nightlife.  It's a remarkable tool to add to your arsenal so log in and get plugged in immediately!