Introduction to Medellin
Hey there! So, have you heard about Medellin in Colombia? It's become a total hotspot for digital nomads, and it's not hard to see why. With its super affordable living costs and the friendliest community around, Medellin is definitely making waves among peeps who want a cool place to work and play. And guess what? The city's got some solid infrastructure and a crazy rich culture, making it the ultimate haven for remote workers.
In this article, we're gonna dive into all the reasons that make Medellin the ultimate city for digital nomads seeking that perfect work-life balance. So, buckle up and let's go!
Affordable Cost of Living
So, let me tell you about Medellin and why digital nomads are all about it! One of the main reasons they're flocking here is the super low cost of living. Let me break it down for you:
Accommodation: You won't believe the sweet deals you can find in this city! There are tons of affordable places to stay, from studio apartments to shared flats. You can rent a 1-bedroom studio for about $500 to $800 USD a month. And if you wanna save even more, a shared apartment can cost you up to just $300 USD monthly.  Pretty good, huh?

Pro tip:  The best deals come when you find a local real estate agent to show you the units that are not listed on popular platforms like Airbnb.

Food and dining: Oh man, the food here is not only delicious but also easy on the wallet. Just walk around the city and you'll find loads of restaurants with lunch deals for as low as $3 to $5 USD! But if you're more of a home chef, you can always hit up the local markets and grab fresh produce and ingredients for super reasonable prices. Like, seriously, a week's worth of groceries can be just $20 to $30 USD.

Transportation: Getting around Medellin won't break the bank either. Their metro system and public buses are crazy cheap – less than $1 USD for a single ride! But if you're all about that convenience, taxis are another option. Just be prepared to pay around $2 USD for a short trip.
Fast And Reliable Internet
You know, as a digital nomad, it's super important to stay connected to the internet. Lucky for you, Medellin's got your back with speedy and reliable internet connections! 🌐 With strong Wi-Fi systems all around, you'll be able to get your remote work done without a hitch. Plus, there are a bunch of internet service providers and cool internet cafes, offering high-speed internet from 10 Mbps up to a whopping 300 Mbps. 💻🚀 So, no need to worry about your online needs while you're in this awesome city!
Popular Neighborhoods
If you're looking for the perfect neighborhood to call home in Medellin, you're in luck because the city offers many options to choose from, depending on your preference. Whether you are looking for a quiet neighborhood or a lively community, there's a neighborhood in Medellin that complements your personality.
Here are some of the most popular neighborhoods for digital nomads in Medellin:
Best for: Digital nomads who want to be close to the party.
Description:  El Poblado is a trendy and vibrant neighborhood in Medellin, Colombia. Often considered the heart of the city's modern lifestyle, El Poblado is known for its lush greenery, upscale restaurants, and buzzing nightlife. 🌳🍽️🥂

As you stroll through the streets, you'll find a mix of stylish boutiques, cozy cafes, and cool bars, making it a haven for both locals and tourists alike. With its lively atmosphere and picturesque setting, it's no wonder that El Poblado has become a popular spot for digital nomads and expats. 🛍️☕🌍

For outdoor enthusiasts, there's plenty to explore, like the stunning Parque Lleras – a lively park at the center of El Poblado's social scene. If you're into art, don't miss out on the Museo de Arte Moderno de Medellín (MAMM) – a contemporary art museum featuring thought-provoking exhibitions.

Looking for a place to stay? El Poblado offers a variety of accommodation options, from chic hotels to budget-friendly hostels. And when it comes to food, you'll be spoilt for choice with the many international and local restaurants serving up mouthwatering dishes. 🏨🍲
---
Where to Stay
---
Best for: Digital nomads who want to save money while not skimping on your quality of life.  Nightlife is not as great in the part of Medellin but you can taxi around Medellin for only a few dollars.
Description: Laureles is a vibrant neighborhood in Medellin, Colombia, known for its tree-lined streets, welcoming atmosphere, and a mix of both traditional and modern vibes. 🌳🏘️ It's a popular spot for both locals and expats, offering a wide variety of restaurants, cafes, and bars to hang out at. 🍽️🍹 One of the most famous spots in Laureles is La 70, a lively street filled with nightlife, food, and entertainment. 🎉🌃

Laureles is also known for being a safe and walkable neighborhood, making it perfect for exploring by foot or bike. 🚶‍♂️🚴‍♂️ If you're into sports, you'll love the Estadio Atanasio Girardot Sports Complex, where you can catch a soccer match or join in on other sports activities. ⚽🏟️

The area is well-connected to the rest of Medellin through the city's excellent public transport system, including the Metro and buses. 🚇🚌

Here are some links to help you get to know Laureles better:
---
Where to Stay
---
Best for: Digital nomads who want to take a break from the busy and noisy city and surround themselves with beautiful greenery.
Description:  Envigado is a lovely municipality located just south of Medellin, Colombia. It's known for its laid-back atmosphere, friendly locals, and beautiful scenery. 🌳 Envigado maintains a more traditional Colombian vibe compared to the more modern feel of Medellin, making it a great spot for immersing yourself in local culture. 🇨🇴

One of the highlights of Envigado is Parque El Salado, a lush park where you can take a leisurely walk or enjoy a picnic by the river. Another must-see spot is La Magnolia, a trendy neighborhood filled with hip cafes, bars, and restaurants. While in Envigado, don't miss out on the vibrant Envigado Park, the perfect place to relax, people-watch, and soak up the friendly atmosphere.

If you're a fan of hiking and nature, you'll love the proximity of Envigado to the spectacular Cerro El Volador, offering stunning views of Medellin and its surroundings.

Overall, Envigado is a charming destination offering a unique blend of traditional Colombian living and modern amenities, making it a great spot to visit or stay while exploring Medellin.
Plenty Of Co-Working Spaces
One of the perks of being a digital nomad is the opportunity to work from anywhere. However, in many cases, you'll need to find a suitable place to set up your laptop and begin your project, or you might need a perfect place to hold remote meetings. Fortunately, Medellin is home to many co-working spaces that can cater to the needs of digital nomads. Most of these spaces feature a range of services and amenities to keep you connected and help you stay on top of your projects.
Here are some of the best co-working spaces you can find in Medellin:
Selina is one of the top choices for digital nomads who want to have both accommodation and workspace in one place, as this place is not only offering co-working spaces but also private apartments. Some of the key features of Selina that make it a great co-working space for digital nomads include:
Comfortable accommodations which include dorms and apartments
Printing and scanning services
On-site bar and restaurant
Quokka Café Coworking is another popular destination for digital nomads who want a comfortable and friendly workspace. Located in the Provenza neighborhood, this co-working space offers spacious workstations and an accessible outdoor patio area. Here are some notable features of Quokka Café Coworking:
Spacious and comfortable workstations
Printing and scanning services
Meeting rooms available for rent
Delicious on-site cafe with a variety of food and beverage options
The popular global co-working space chain WeWork also has branches in Medellin. Those searching for a professional workspace with a strong sense of community find WeWork a good choice. WeWork's coworking spaces are famous for their modern and stylish environment. Choosing WeWork gives you access to the following features: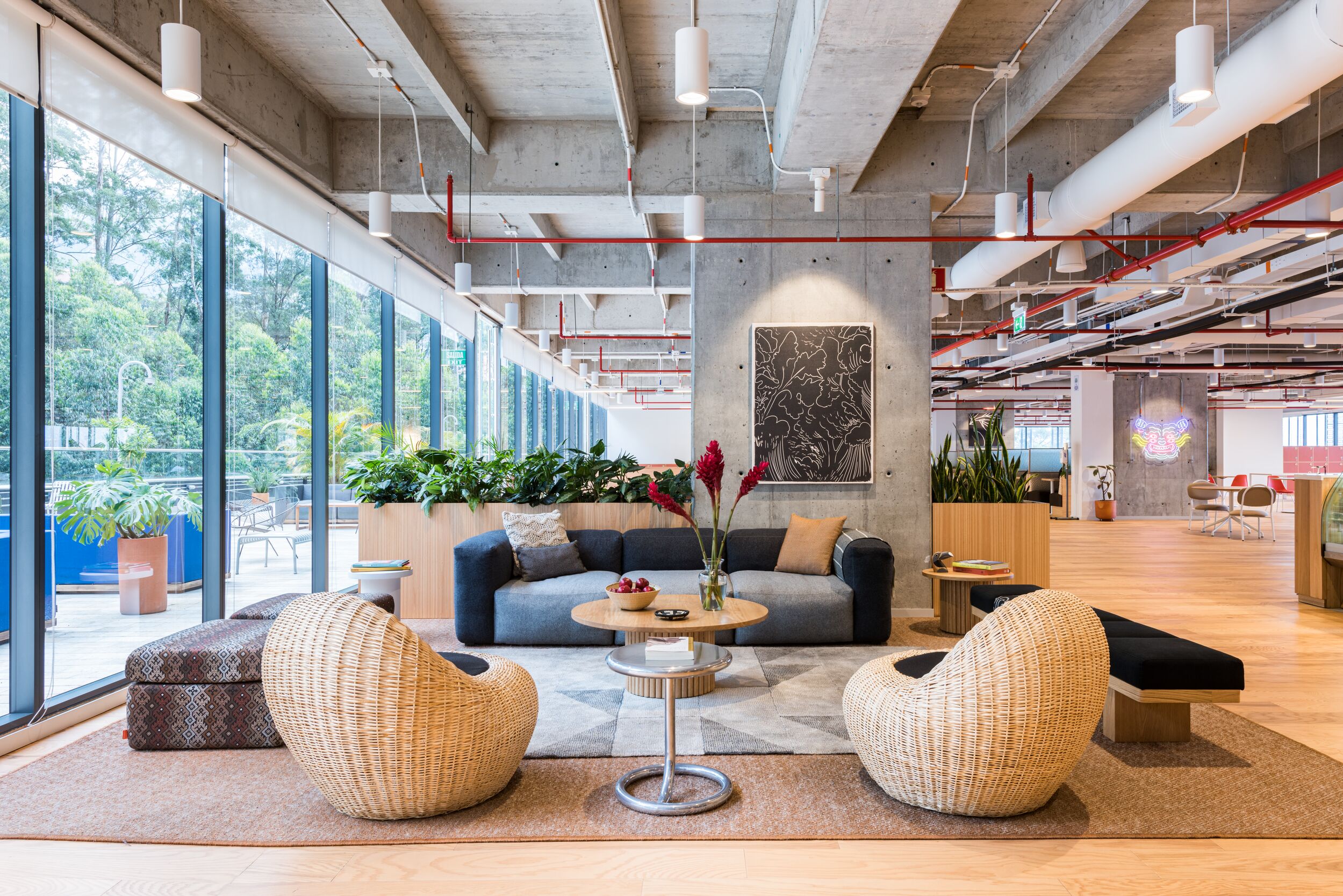 Meeting rooms available for rent
Stylish workspaces, including private offices
Wellness room for meditation and relaxation
Access to the WeWork global network of co-working spaces
Cultural Experiences in Medellin
Medellin is an amazing city for digital nomads like you, with a super diverse and lively cultural scene. There's so much to do and see, from museums and festivals to music and street art – you'll never get bored.
Museums
Medellin has a ton of museums to check out, whether you're into art, history, or science. Here are some top picks:
Museum of Antioquia: Right in the city center, you'll find tons of works by local legends Fernando Botero and Pedro Nel Gomez, plus loads of regional artifacts.
Parque Explora: Science and tech lovers, this one's for you! Over 300 interactive exhibits on topics like ecology, astronomy, physics, and robotics. Don't miss the planetarium, 3D auditorium, and TV studio.
Museo Casa de la Memoria: Want to dive into Colombia's history of armed conflict? This museum offers different perspectives on the country's recent wars – definitely worth a visit.
Street Art Tours
Medellin's street art scene is one of the most colorful in the world, featuring works by both local and international artists. To learn about the city's rich culture and history, take a street art tour:
Graffiti Tours Medellin: Explore Medellin's vibrant street art with passionate, knowledgeable guides who'll take you around the city's colorful neighborhoods.
Real City Tours: Get insights into Medellin's culture, history, and social issues while checking out the city's most lively neighborhoods with experienced tour guides.
La Casa Kolacho: This cultural center uses street art to empower the community and promote social change. Join their street art tour to see the stunning works of La Casa Kolacho's artists.
Music and Dance
Medellin is all about music and dance! From salsa, cumbia, and reggaeton to tango, bachata, and merengue, you'll find it all here. You can hit up dance clubs or join dance schools to really immerse yourself in the local culture. So, get ready to dance your heart out and experience the vibrant sounds of Medellin!
Food and Drink
Do you know what's awesome about Medellin? The food scene here is just amazing! There are so many local spots and fancy restaurants all over the city. You've gotta try the Bandeja Paisa while you're here. It's this super popular Colombian dish with rice, beans, chicharron, chorizo, avocado, and plantain, all topped with a fried egg. Trust me, it's the perfect way to kick off your day as a digital nomad.
Oh, and if you're into coffee, Medellin is like heaven. The city is surrounded by coffee plantations, so you know the local stuff is going to be top-notch. Just pop into any of the coffee shops around town and take a whiff of that amazing aroma. Seriously, it'll wake you right up.
And hey, don't forget to try some of the local drinks while you're here. Colombian rum is fantastic, but you've also got to taste aguardiente, which is a traditional anise-flavored liquor. Your trip to Medellin just won't be complete without it!
Festivals and Celebrations
Medellin is a city that's always buzzing with excitement, and it's got tons of cool festivals and celebrations going on all year round. It's a fantastic place to dive into local culture and make new friends while having a blast.
Feria de las Flores (Flower Fair)
One of the best things to do in August is to check out the Feria de las Flores (Flower Fair). It's a huge deal in Medellin because the flower industry is super important to the local economy. At this awesome festival, you'll get to see amazing flower parades, take part in cultural events, and rock out at music concerts. Trust me, you don't wanna miss the chance to see those stunning flower displays and join in the lively atmosphere!
Festival Internacional de Tango (International Tango Festival)
Now, if you're into dance (and who isn't?), you've gotta hit up the Festival Internacional de Tango (International Tango Festival). Tango is a huge part of Medellin's culture, and this festival showcases some of the most talented dancers and musicians from around the world. You can catch incredible live performances, watch workshops, and even see some intense competitions. It's a great time to be had by all, so don't miss out!
Climate and Outdoor Activities in Medellin
So you wanna know about the climate and outdoor activities in Medellin, huh? No worries, I got you covered! Medellin is famously known as the "City of the Eternal Spring" because it has such lovely weather all year round. Seriously, the average temp is 22°C, so you'll always find it comfy for outdoor fun!
Hiking
Medellin is surrounded by these jaw-dropping mountains and valleys, which make it an awesome spot for hiking. You'll find tons of picture-perfect trails that'll give you a good workout while you take in the beauty around you. One cool place you gotta check out is Parque Arvi. Trust me, you'll love the amazing views of the city and the lush forest as you hike.
Biking
If you're more into biking, Medellin's got you covered there, too. You can explore the city at your own pace and even visit some famous landmarks like Museo de Antioquia. Don't forget to bike around the green spaces, like the popular Jardin Botanico park. And if you don't have your own bike, no worries! There are plenty of parks and bike lanes with affordable bike rentals available.
Paragliding
Looking for something a bit more thrilling? Give paragliding a shot! Medellin's hilly terrain offers incredible views and is just perfect for this exciting activity. Luckily, there are loads of paragliding tours led by experts who'll hook you up with all the gear you need and guide you through the whole thing. Here's a link to Viator's list of top paragliding tours in Medellin, so you can book your first high-flying adventure!
Entrepreneurial Opportunities in Medellin
If you're a digital nomad looking to dive into some entrepreneurial adventures, Medellin might just be the perfect place for you! In recent years, the city has become a hotspot for entrepreneurs, startups, and co-working spaces. So why not join in on the fun and explore new ideas, connect with fellow professionals, or even launch your own business? Here are some cool opportunities to check out in Medellin:
Co-working Spaces: Medellin is full of awesome co-working spaces that cater to digital nomads, freelancers, entrepreneurs, and startups. These places are perfect for learning, making new connections, and collaborating with others. So, grab your laptop and find a co-working space that suits your vibe! You never know, you might just bump into your future business partner there! Find a Co-working Space
Startup Ecosystem: The city's got a pretty impressive startup scene, and the government is all in to support it. As a digital nomad, it's worth exploring this ecosystem to grow your network and connect with local startups, investors, and mentors. Who knows what opportunities await? Discover Medellin's Startup Ecosystem
Digital Marketing: In case you're a digital marketing whiz, there's plenty of action happening in Medellin. Lots of businesses are looking to amp up their online presence, so if you're a pro at social media management, content creation, or SEO, you might just find your next gig working with local companies. It's a great way to build your portfolio and make some connections along the way! Explore Digital Marketing Opportunities
Safety in Medellin
So you're thinking about visiting Medellin as a digital nomad, right? Well, let me tell you, it's pretty safe these days, especially compared to other big cities. But, like anywhere else, you've gotta be careful and take some basic safety steps. You know, like steering clear of dark spots at night and not flashing your fancy gadgets.
Medellin has seriously turned things around from its past rep, making huge strides in safety and fighting crime. The city's been pouring resources into social programs, infrastructure, and law enforcement, which has helped bring crime rates way down. But don't get too comfy, okay? Stay on your toes, take precautions, and keep an eye out for any safety updates. That way, you'll have a blast in Medellin without any worries! 😊
So here's the lowdown:
Petty theft and pickpocketing: This is pretty common in crowded areas like public transport, markets, or tourist spots. Be cautious and keep your belongings secure. Consider using a money belt or a bag with anti-theft features.
Smartphone theft: Phones are a hot target for thieves, especially if you're flashing it around. Be discreet when using your phone in public, and avoid using it while walking on the streets.
Scams: Tourists might be targeted for various scams. For example, someone might offer to help you with your luggage or with directions, then demand payment for their "services." Be cautious and try to avoid engaging with strangers who seem overly friendly or pushy.
Taxi-related crime: Fake taxis or unregistered cabs might overcharge or, in rare cases, be involved in more serious crimes. Use official taxi services or ride-sharing apps like Uber to be on the safe side.
Express kidnappings: While very rare, these incidents involve victims being forced to withdraw money from an ATM before being released. To minimize the risk, avoid using ATMs on empty or poorly lit streets, and go with a buddy if possible.
By staying informed and vigilant, you'll be better prepared to avoid these common crimes and have a safer, more enjoyable time in Medellin!
Community of Digital Nomads in Medellin
Medellin is home to a vibrant community of digital nomads from all over the world. As a digital nomad, being part of a community is an essential aspect of your lifestyle. It provides a support system, a comfortable place to network, and an opportunity to collaborate with like-minded individuals.
If you're looking for ways to connect with fellow digital nomads in Medellin, there are several options available. You can join local Facebook groups, attend networking events, or even join co-working spaces like Quokka Cafe Co-Working, which offers a great community for digital nomads.  You can find a list of groups (organized by group purpose) inside Nomad Grab's app.
Another excellent option is to seek guidance from coaching solutions like Nomad Grab. With Nomad Grab, you can book on-demand consultations with seasoned professionals who can offer transformative advice on a wide range of topics. Whether you need guidance on navigating around Medellin, staying productive while traveling, or advice on maintaining a healthy work-life balance, Nomad Grab has got you covered.
Conclusion
In summary, Medellin is an excellent destination for digital nomads seeking a fulfilling work-life balance. This vibrant city boasts an array of affordable accommodation, dining, and transportation options, making it an ideal location for remote workers seeking a cost-effective and comfortable lifestyle. 
The internet connection in Medellin is fast and reliable, ensuring that digital nomads can stay connected and productive. Moreover, Medellin is home to a diverse range of co-working spaces, offering an abundance of options to suit different needs and preferences. Beyond work, Medellin also offers an exciting cultural scene, with an array of museums and cultural experiences to explore. All in all, Medellin provides a conducive environment for digital nomads to live, work, and indulge in the city's many offerings.
FAQs
What is the cost of living like in Medellin for digital nomads?
Medellin is known for being an affordable option for digital nomads. Accommodations, food, and transportation are all relatively inexpensive, making it an appealing destination.
Are there coworking spaces in Medellin?
Yes, there are several coworking spaces in Medellin catering to digital nomads. Some popular options include Selina, Quokka Café Coworking, and WeWork.
Is it easy to meet other digital nomads in Medellin?
Yes, Medellin has a thriving community of digital nomads, and it's relatively easy to meet others through coworking spaces, networking events, and social media groups. Additionally, there are several organizations and solutions, such as NomadGrab, that can help connect digital nomads in Medellin.
Is it easy to find reliable internet access in Medellin?
Medellin has a relatively reliable and fast internet connection. Most accommodations, coworking spaces, and cafes offer free Wi-Fi access, making it easy for digital nomads to stay connected and productive.
How do I find the Whatsapp groups for digital nomads in Medellin?
You can find all of the Whatsapp groups for digital nomads inside Nomad Grab's app.  Inside our app, you can filter by country, and city to find the active Whatsapp communities and groups for your destination city.  You can also filter the groups by interest, like hiking, sports, or nightlife.  It's a remarkable tool to add to your arsenal so log in and get plugged in immediately!